Want to know how to sell on Depop? If the answer is yes, then you have reached the right place for a guide.
There are a number of ways in which you can earn money from home. And one of them is by having a small business. There are a number of e-commerce stores online that help to facilitate small businesses and help people earn money. One of them is Depop.
If you are someone who wants to sell on Depop and start your business but does not know how to do that, you have reached the right place. Keep reading this article till the end to learn more…
But First, What Is Depop?
Before telling you the answer to how to sell on Depop, it is important that I tell you a little about what Depop is. This section is for all those who are unaware of the platform.
Depop is one of the most popular online e-commerce stores that are available at present. It is a sustainable platform where users can buy as well as resell their own items. Available in the form of web-based software as well as in the form of an app, this platform was started in the year 2011.
Currently, Depop has more than twenty-one million users, out of which most of the users are late millennials and Gen Zs. In the United States, it is one of the most visited e-commerce websites.
The main reason for this site's popularity is the fact that the products here are extremely affordable and of good quality. Owing to its increasing popularity, even many celebrities have resold their items on this platform.
Selling Made Easy: How To Sell On Depop?
Now that you have learned about what Depop is, it is time for me to answer the most asked question— how to sell on Depop?
People who have a clothing business generally think about the ways of selling on Depop. But that is not the only thing that you can sell on Depop. You can literally sell everything from sustainable fashion to vintage items on the platform.
If you are someone who wants to know how to sell your items on Depop, then you have come to the right place. Keep reading till the end to learn about making money through Depop…
How To Start Your Depop Business?
In order to sell on Depop, you need to have a business on the platform. Here is how to do it without much hassle:
1. Open A Depop Account
The first and most important step that you need to have in order to start your business on Depop is an account on the platform. In order to do that, follow the steps given below:
Head over to the Depop Website and go through the signup process,
Click on the 'Send Code' option,
Enter the six-digit code,
Fill in the basic information and click on Next,
Tap on Create Account.
And that is it! Now you have a Depop account for your business.
2. Connect Your Payment Account
The next important step is to connect your account to your PayPal account in order to receive the payments. Whether the customer makes the payment through PayPal or through credit or debit cards, the purchases go through PayPal.
Here are the steps that you need to take in order to do this:
Open the Depop account,
Click on the profile icon at the bottom of the page,
Click on the settings option that is located at the top right-hand side corner of the screen,
Under the Selling section, click on the PayPal account option,
Click on Connect PayPal,
Login to the PayPal account.
That is all! You have now connected your PayPal account to your Depop account.
3. Name Your Brand
Now that you have your Depop account, it is important to have a name for your store. The name of your Depop store is going to be the name of your brand. So, name it carefully. This is something that will create a brand identity.
4. Select The Products
After you have your shop name, it is time to choose the kind of products that you are going to sell on the platform. Think carefully about how the listing might look after you have uploaded the images. So, try to make things consistent.
5. Take Quality Images
The next thing on the list is to take high-quality images of the products. Make sure that the images you take are creative enough. The images have a lot of power to attract customers. Keep in mind that the background and the angles of the product in the image are spots on!
6. List Products
After you are done taking pictures, it is time to list them in your shop. There are some things that you should keep in mind while selling our products on the platform. Here are some tips:
Give good title
Describe the product extensively and in detail
Take four to five photos of the item
Write a good product description that sells your product.
Pro Tip: If you want to know how to sell faster on Depop, here is the key! Depop recommends that you list at least fifteen items in a week. In this way, you will be noticed much faster.
7. Add Shipping
The last step that you need to do is get your shiping method sorted. Think about all the things that you will need in order to ship the product. From mailer bands to packaging boxes and shipping labels, keep everything that you need at hand. And don't forget to fix your logistics company.
Tips And Tricks: How To Have A Successful Depop Shop?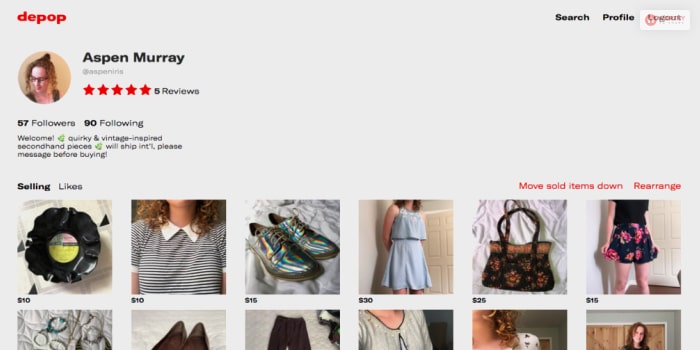 In order to have a successful Depop shop, there are a few things that you need to follow. Here are some of the tips that you should keep in mind while having a shop on Depop:
Respond to your customers. The answer to how to sell on Depop fast is by being active and responsive to the questions of your target audible or potential customers.
Be ready to invest in taking good or high-quality photos for listing your products. You can hire a model to pose for your site. Or even turn into a model yourself.
It is important to list new items regularly and give your potential customers something to choose from all the time. Listing your products regularly makes sure that you are able to increase your popularity among customers.
Hashtags are one of the most important things that you need to use in your listings. Use relevant hashtags to attract customers.
Frequently Asked Questions (FAQs):
Take a look at some of these questions that are mostly asked by the readers who search for the answer to how to sell on Depop. Go through these to find some help:
Q1. How Much Does It Cost To Sell On Depop?
Ans. If you want to know how much it costs to sell on the platform, I have you covered. You can sell on Depop but know that the platform takes 10% of the total selling to feel on the platform. 

Q2. What Are Some Of The Best Money-Making Apps?

Ans. There are a number of money-making apps available online. Some of the best ones are:

a. Sweatcoin
b. Taskrabbit
c. Fiverr
d. Swagbucks
e. Foap


Q3. What Are The Depop Alternatives?
Ans. Here are some of the Depop alternatives that you should know about:

a. GoTrendier
b. Poshmark
c. Tradesy
d. Rebag
e. Vinted
f. Carousell
What Are Some Of The Tips To Be Successful On Depop!
If you are planning on selling on Depop, there are some of the strategies that you can implement which will help you become more successful on the site. Read further to know what are the best ways to successfully implement strategies helping you gain more exposure on the site.
You have to regularly list items this way you will establish as a constant on the site! With scheduling listings on the website or advance listings through photos, you will have more exposure because it will allow more buyers to check what you currently have available in your shop.
Apart from that, you also need to remember that this way your account is active and regular listing and posting will keep you in people's feeds with your fresh content. You need to invest if you are planning to post photos because they should be aesthetically appealing along with high quality.
This will ensure that the buyers will become a regular after potentially checking out your stuff every week! Other significant step of running a business on Depop is responding quite quickly to whatever queries or questions customers might have.
Either direct messages or comments will work especially if you are busy but overall you need to keep in mind how it is important to explain everything in your postings. Do keep the mystery regarding the rate of the products however, try to be responsive and interactive.
Do establish a policy for the business or the shop you are running on Depop. It is quite essential to maintain certain steps such as payment related elements, refund and return policies and others.
Wrapping It Up!
Depop is one of the most popular e-commerce websites and apps that let users make money while sitting at home. You can buy items on this platform as well as resell your own items by listing them as products on the platform. In order to sell on Depop, make sure that you have an account there.
In case you were searching for the answer to how to sell on Depop, I hope that you find all your answers in this blog. If there are any other queries that are related to the same, feel free to write them down in the box at the end of this page.
Read Also: